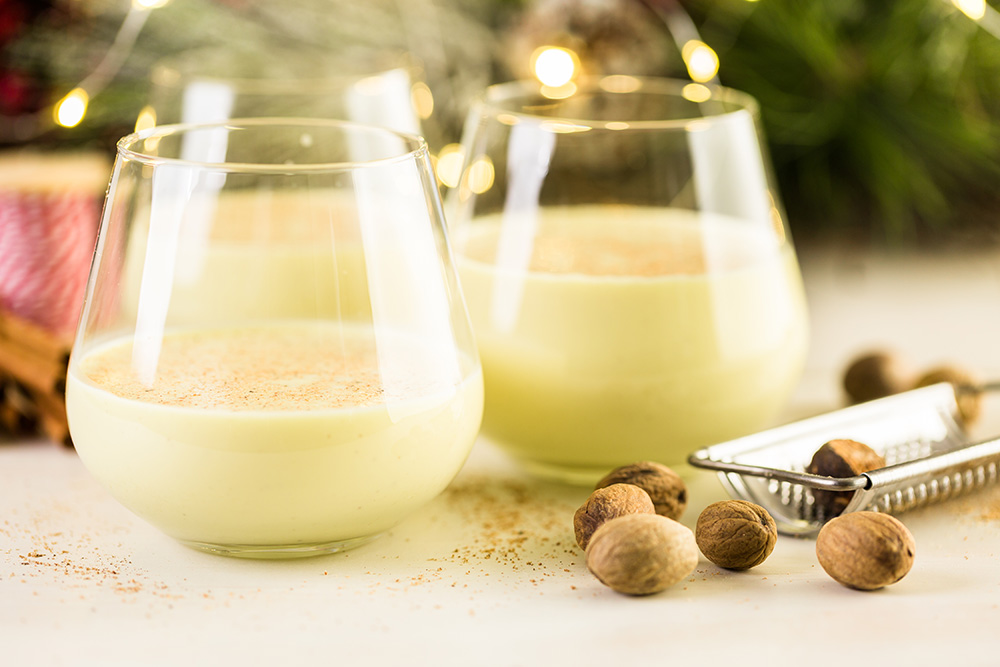 These days, you can find a store-bought egg nog to satisfy your taste and dietary preferences. From ones made with grass-fed dairy to ones that are vegan and nut-free, these options can be found for a limited time in the refrigerated section of the grocery store. Here are a few better-for-you nogs to fill your cup with holiday cheer:

Horizon Organic Low-Fat Egg Nog
If you like a dairy-based nog, but want something with less fat and calories, this one is your best bet. It has 140 calories, 3 grams total fat and 15 grams of added sugar. It's lower in cholesterol with only 40 milligrams than the full-fat dairy options and has the most protein, at 6 grams per serving. We liked the visible bits of nutmeg in the mix. This nog is on the sweeter side and isn't too thick, so it's a good option for kids.
Silk Original Nog
At 80 calories and just 1.5 grams total fat per half cup serving, this is a light holiday drink. With 11 grams of added sugar, its sweetness factor falls in the middle of the lineup. This soy-based nog is gluten-free, plant-based, cholesterol-free and lactose-free. It is smooth-tasting and heavier on vanilla notes over spice.
Califia Farms Holiday Almond Milk Nog

Another dairy-free option, this nog is also free from soy and carrageenan, one of the thickeners that is commonly used in creamy beverages. Each half cup serves up 50 calories, 1.5 grams total fat and 8 grams of added sugar. Like the other plant-based options, Califia's nog is cholesterol-free and gluten-free. Plus, it's made from non-GMO almonds. It has a rummy flavor, though you'll need to add your own for a real kick.