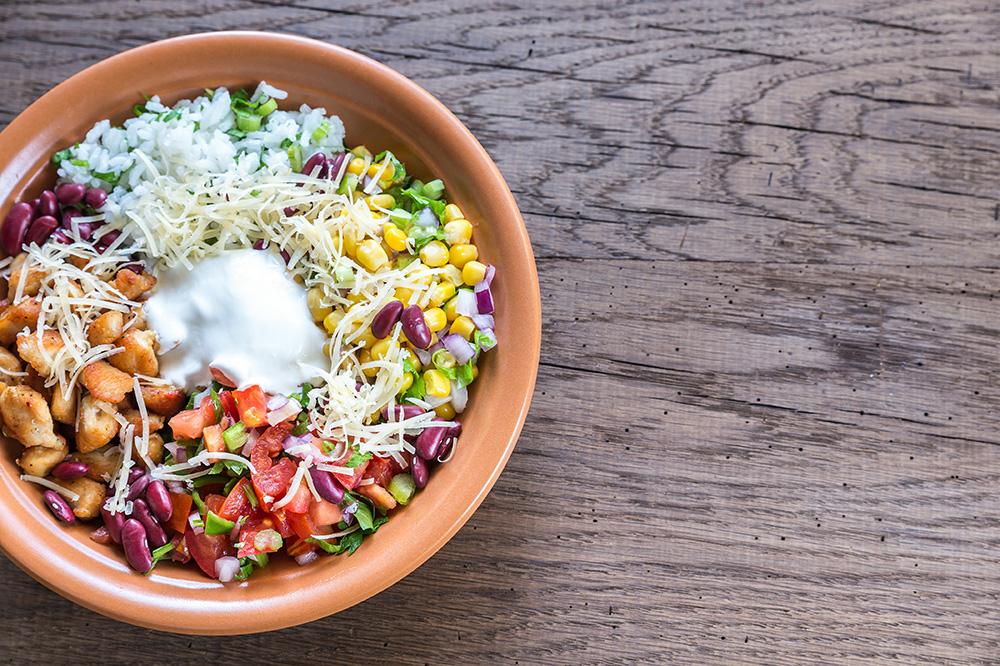 Burrito Bowls serve up less calories
24 Mar 2021 by Ted Escobedo
2 min read
A flour tortilla can contribute up to 400 calories and 45-65 grams of carbohydrates in a burrito. Switching to a burrito bowl and including rice and beans transforms your burrito into a nutrient-dense 'cheat' – even if you choose to keep the full-fat sour cream and cheese. For a little extra nutrition, opt for brown rice and a heavy portion of vegetables, salsa, corn, and guacamole.
Here's an easy recipe:
Ingredients:
1 cup uncooked rice
1 cup salsa, homemade or store-bought
3 cups chopped Romaine lettuce
1 (15.25-ounce) can whole kernel corn, drained
1 (15-ounce) black beans, drained and rinsed
2 Roma tomatoes, diced
1 avocado, halved, seeded, peeled and diced
2 tablespoons chopped fresh cilantro leaves
For the chipotle cream sauce
1 cup sour cream
1 tablespoon chipotle paste*
1 clove garlic, pressed
Juice of 1 lime
1/4 teaspoon salt, or more, to taste
Directions:
To make the chipotle cream sauce, whisk together sour cream, chipotle paste, garlic, lime juice and salt; set aside.
In a large saucepan of 1 1/2 cups water, cook rice according to package instructions; let cool and stir in salsa; set aside.
To assemble the bowls, divide rice mixture into serving bowls, top with lettuce, corn, black beans, tomatoes, avocado and cilantro.
Serve immediately, drizzled with chipotle cream sauce.