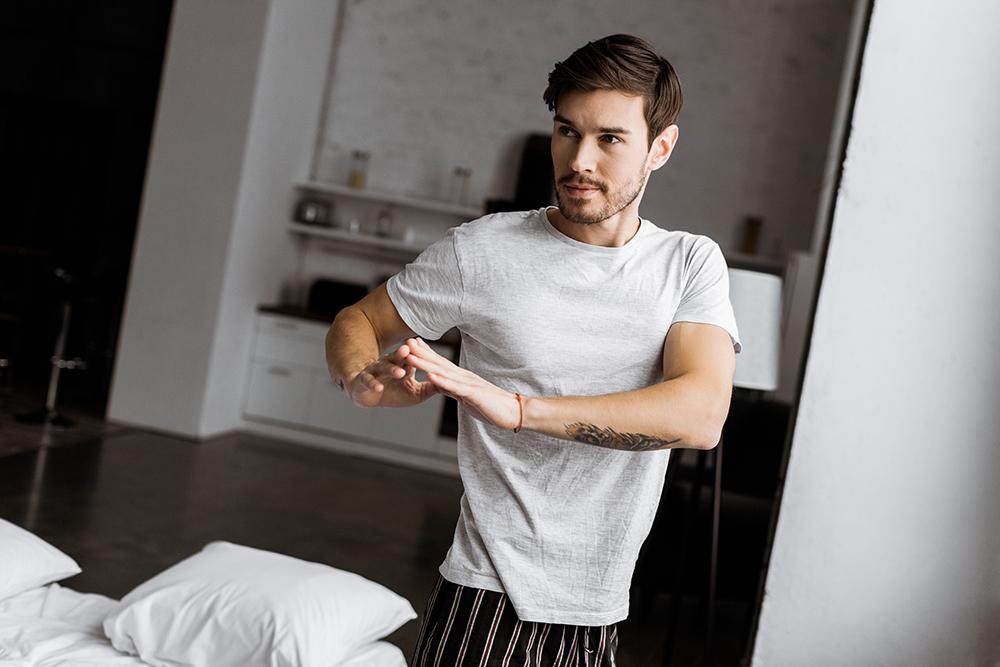 What Are the Best Stretches to Do Before Bed?
07 Mar 2023 by Ted Escobedo
3 min read
If you find it hard to unwind your body and mind for sleep, it may be time to consider stretching before bedtime. Stretches can relax your body and mind while helping to reduce stress levels and improve sleep quality when done just before heading to bed. Here are some stretching techniques you can try before bed to help you release the day's stress and get the recovery sleep you need.
1. Child's Pose
The child's pose is a restful mind-body exercise for releasing any tightness you may feel in your body. This stretch may help you relax your body, feel a little lighter, relieve body tension, and reduce back pains.
Here's how to practice this stretch:
• Kneel on your mat and let your butt rest on your heel.
• Lay your back and hands forward as you rest your forehead on your mat.
• Extend your arms around your forehead.
• Deeply inhale while in this position.
• As you exhale, heighten your senses to every part of your body.
• Hold this position for 60 seconds to 2 minutes.
2. Knee to Chest Stretch
This stretch opens up your lower back and helps you become more aware of and release any discomfort in your body. Here's how to do this stretch:
• Lay down on your back with your head facing up.
• Slowly pull one knee with both hands to your upper chest.
• Hug the knee till you feel a stretch in your lower back.
• Keep the other leg straight and relaxed.
• Hold for 30 seconds.
• Switch to the other leg and repeat the same movement.
3. Supine Twist
Supine twist helps relax your body by stretching your back, glutes, and hip muscles. Here's what to do:
• Lay straight on your back.
• Pull both knees to your chest till you feel like you've extended your spine.
• Inhale and drop both knees to one side. Exhale.
• Gently put the top leg down on the bottom leg.
• Let your chest face the ceiling.
• Hold this position for 30 seconds.
• Repeat on the other side.
https://www.sleepscore.com/blog/stretches-for-slee...